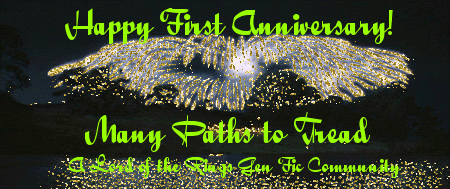 On July 27, 2009
Many Paths to Tread
...
Went online. In that time, we have grown to 90 members and more than 1,000 stories! The mods, Cathleen, Dawn Felagund, Dreamflower and Pearl Took would like to thank all of our members for their enthusiasm and support! We hope that our archive will continue to grow and thrive over the years, and that we will have many more stories to share with the world.
To celebrate, we have added a few new features to our archive. You will notice that we now have a counter on our home page, as well as a feature that will show which members are online at any given time. We have also expanded the Most Recent stories sidebar, and have added a third skin choice for your viewing of the archive. In addition to that, we have also added a new category: Art Gallery! That's right! You may now display photos of your fan art here at Many Paths to Tread! You are still allowed to post images within the body of your stories as illustrations. But now you may display other art that you have created, including, but not limited to, drawings, paintings, photomanips, needlework, sculpture, collage, mixed media, and other created items!
Take a few minutes to explore our new "bells and whistles"!