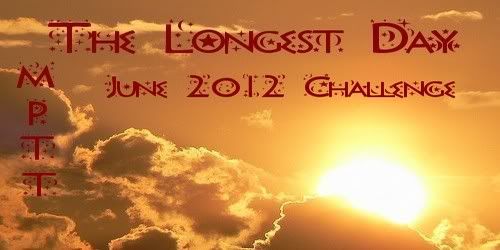 Here are the links to the June 2012 Longest Day Challenge stories! For this challenge each author was given a link to a piece of music to inspire the story.
We have five stories so far! And we anticipate a few late stories for this challenge as well.
Raised from the Tide by Dreamflower
It is a sorrowful day in Buckland; the River has claimed two victims..
The Reluctant Bride by Linda Hoyland
Lady Adiva recalls the longest day of her life while relaxing with Arwen and Éowyn.
Summertime by Erulisse (one L)
Elrond and Elros have been with the sons of Fëanor for many years now. On a bitterly hot day, Maedhros decides on an expedition that the two younger elves will never forget.
The Water is Wide by Larner

The others aboard the grey ship taking the Ringbearers West look to their destination, but one watches astern.
Morning Hasn't Broken by Pearl Took
A little tale about the Remarkable Daughters of Gerontius Took
Thank you all for participating! And I hope everyone will come and check out the stories!
Authors: please upload your stories to
Many Paths to Tread
if you have the chance within the next few days; it will make life easier for your poor hard-working mods! Thanks!