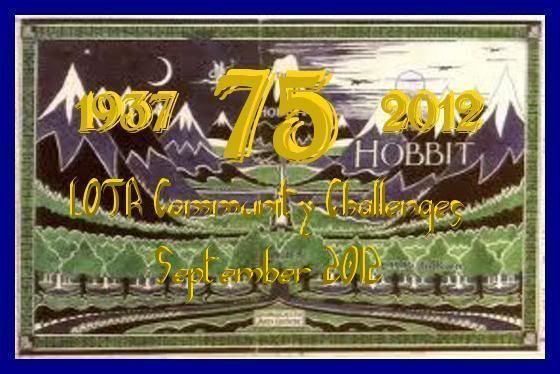 We have had five entries so far in our September 2012 Challenge! The theme of the challenge was "75" in honor of the 75th anniversary of
The Hobbit
, and each author's prompt was a quotation from the book:
With Eager Feet by Linda Hoyland
Aragorn's seventy fifth birthday seems doomed to be a day much like any other in the life of a Ranger until a chance encounter.
Culture Clash by Erulisse
While Glóin goes through the mines to meet his father, he walks down a side passage and almost meets a new clan of dwarves.
"Ring Around the Rosie" by Shirebound
The children of the Shire celebrate the Ringbearers... in their own way.
Dark for Dark Business by Larner
It feels odd for the Gaffer to be a guest rather than serving tonight....
Kindly Little Soul by Dreamflower
Pippin tries to work out when a compliment is not a compliment.
Our thanks to all the authors who participated! And remember that we will always accept late entries!
Please take the time to check out the stories and let the authors know how you liked them.
Authors: If you have not already done so, please upload your stories to
Many Paths to Tread
!